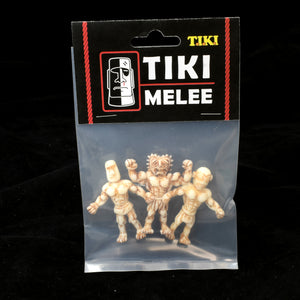 They are little and they are mean! Set of (3) little muscle dudes ready to do battle. There's a Ku, a Moai, and a Tangaroa style tiki fighter. Standing in at around 2in tall and cast in rigid white plastic with a wipe away finish. Packaged in a poly hang bag with header card.

The figure you see is the figure you get!

*Please note each figure is hand made by the artist and may contain an unavoidable bubble or occasional blemish.